(DE) Toni Geiling Solo
(DE) Der Wintertroll
(DE) Irish Christmas mit der Seldom Sober Company
(DE) Der Wintertroll
(DE) In der Wolkenfabrik
(DE) Seldom Sober Company
(DE) INTHEGA-Theatermarkt 2019
(DE) Toni Geiling & das Wolkenorchester
(DE) Toni Geiling & Kaspar Domke
(DE) "In der Wolkenfabrik" Toni Geiling & Kaspar Domke
Seldom Sober Company
open air
Toni Geiling
songs for spring
Toni Geiling & the Cloud Orchestra
summer theater in the park near the Akki-Haus
Toni Geiling & the Cloud Orchestra
Seldom Sober Company
songs & tunes at the castle
nominated for the LEOPOLD award 2015/16
Tonis latest CD"In der Wolkenfabrik / Toni Geiling & das Wolkenorchester" was nominated for the media award LEOPOLD 2015/ 2016. The LEOPOLD award is the most sought after award for kids music in Germany.
19 productions out of more than 200 got nominated and already can label their CD "recommended" by ths Association of German Music Schools (Verband deutscher Musikschulen) as just published in the press release.
For 20 years, there is the media Price LEOPOLD already, he is awarded every 2 years. This year there was a record participation of about 200 competition entries for the 10th award. Particularly pleasing is the consistently high level of production, we read in the letter of the VDM (Association of German Music Schools).
The jury consists of experts in musical pedagogy, broadcasting and music education. For the compilation of nominations a weekend of preliminary jury work, an online voting process as well as a three-day main jury meeting was necessary.
Die Preisverleihung für den LEOPOLD 2015/2016 findet statt am 25. September 2015 in Köln in Zusammenarbeit mit dem Bundesministerium für Familie, Senioren, Frauen und Jugend, mit WDR3 Kulturradio, der INITITATIVE HÖREN e.V., der Rheinischen Musikschule der Stadt Köln und dem Humboldt-Gymnasium Köln (Kinderjury).
Die Pressemitteilung des VdM kann hier nachgelesen werden.
(DE) "Reise nach Irgendwo" – Toni Geiling Solo/Duo
(DE) live im Wintertrollkonzert
The Wintertroll
With a concert in Leipzig Gohlis the Winter Troll opened his children's songs Winter concert tour. On the 1st of Advent two performances were given in the beautiful rooms of the former Thalia Theater. For the first time trudges the Winter Troll with accompaniment through the wintry songs. The pianist and singer Klas Yngborn acts as the "master musician". The two artists try to figure out the mystery of snow-making and enjoy doing all sorts of `Tourbulentes`. On December 21st, 11.00 o`clock, there is again a show at the Puschkin Hall of Thalia. The Winter Troll is also performing as a soloist in numerous other places. A complete tour schedule is available here.
and finally the mystery of snow-making will be revealed in the following video:
New Live Videos from CD Release-Concert at Peißnitzhaus
Singing in the rain…Here is the CD release concert at `Peißnitzhaus` on 09/21/14. Live impressions and sound bites of children songwriter Toni Geiling about the new CD "The Cloud Factory". For those who have shied away from the rain or live on Mars.
Over 250 guests attended the concert. The Orchestra of clouds are Dave Alley (Auckland), Jon Sanders (Kent, Dingle, Ohoura), Kaspar Domke (Leipzig), Klas Yngborn (Berlin) and Andreas Uhlmann (Leipzig). We had a lot of fun performing new and old songs.  Thanks also to the team from Peißnitzhaus to keep (almost) every guest dry from rain.
Enjoy watching the live video!
Live Music Vieo from the CD Release Concert at Peissnitzhaus 21st of September 2014
In der Wolkenfabrik. Toni Geiling & das Wolkenorchester live
Berglied (Mountain Song). Toni Geiling & das Wolkenorchester live
Some impressions from the concert: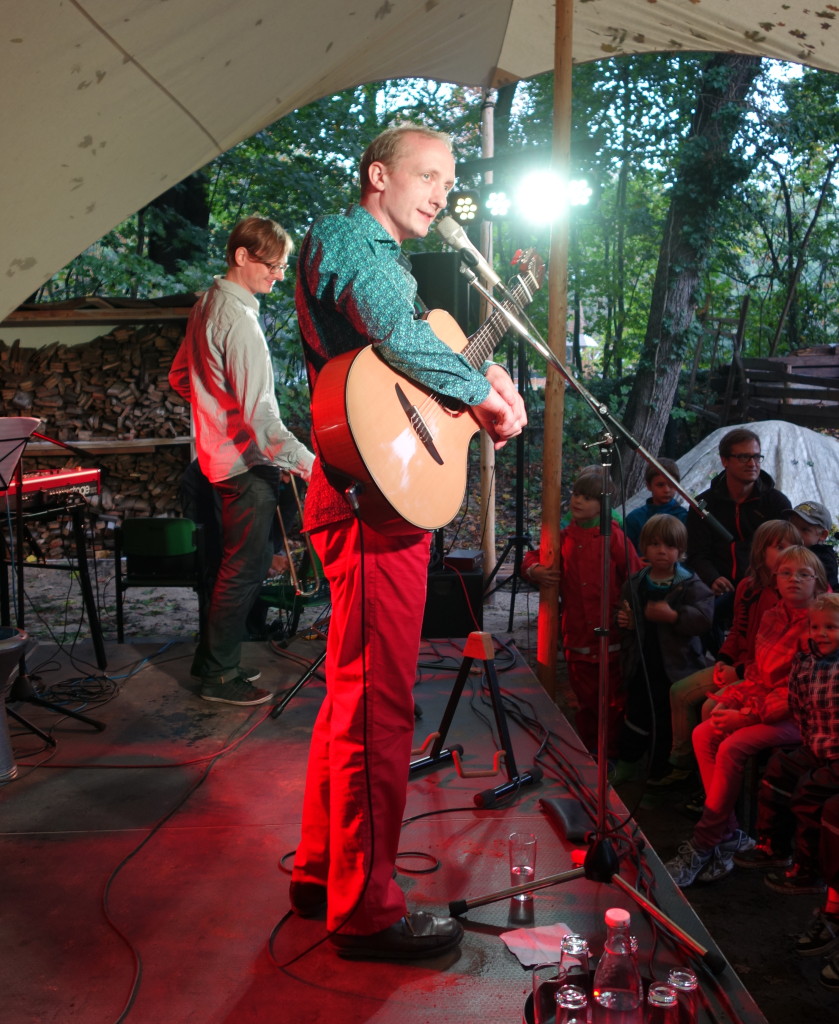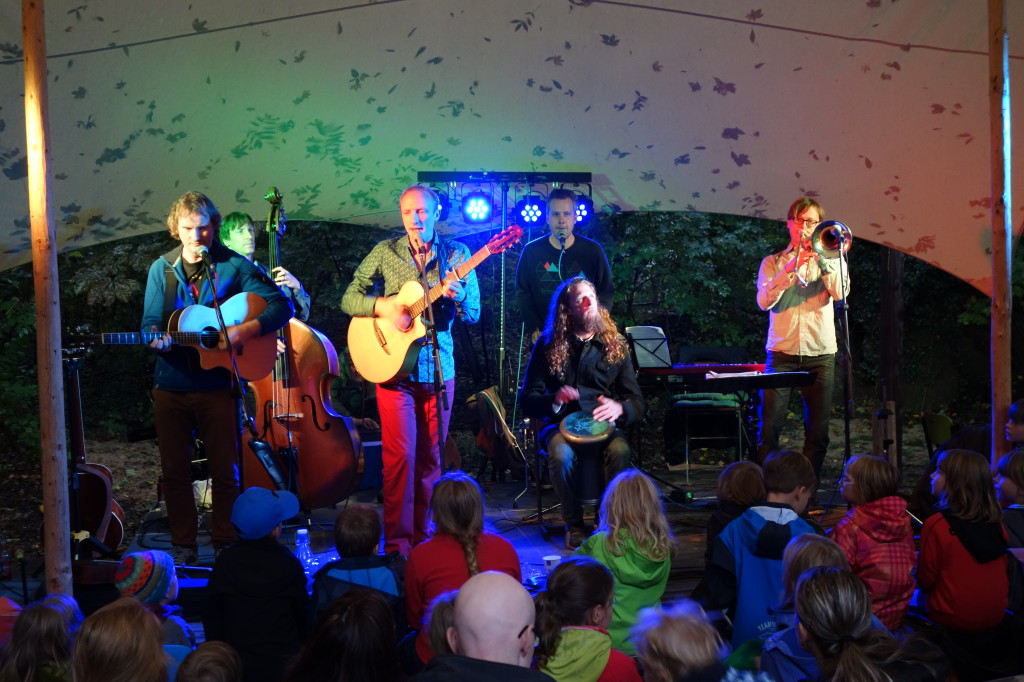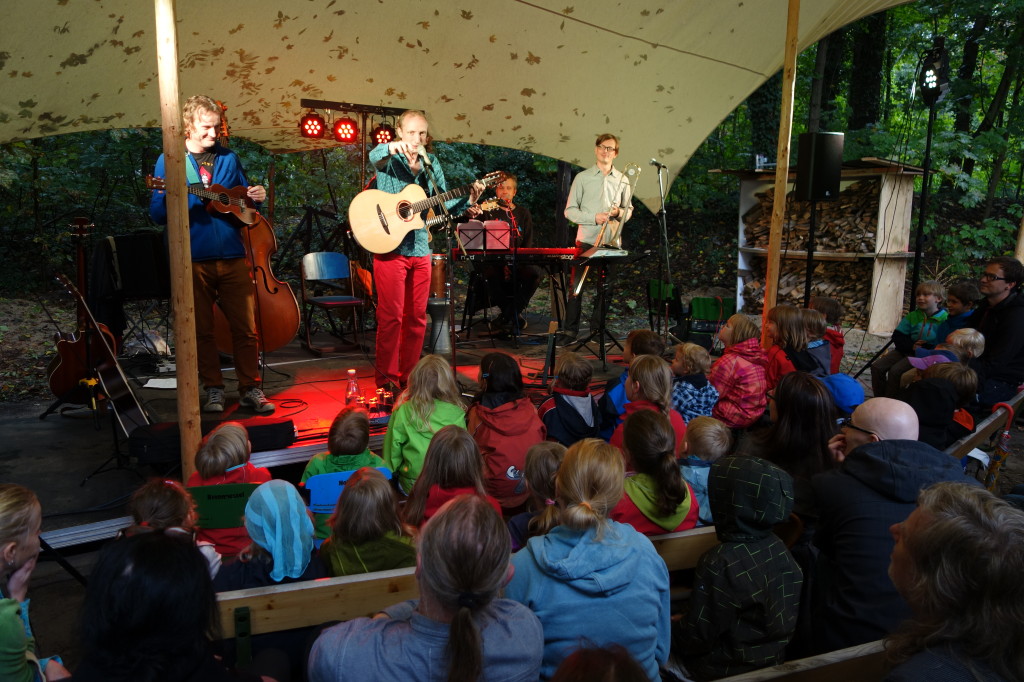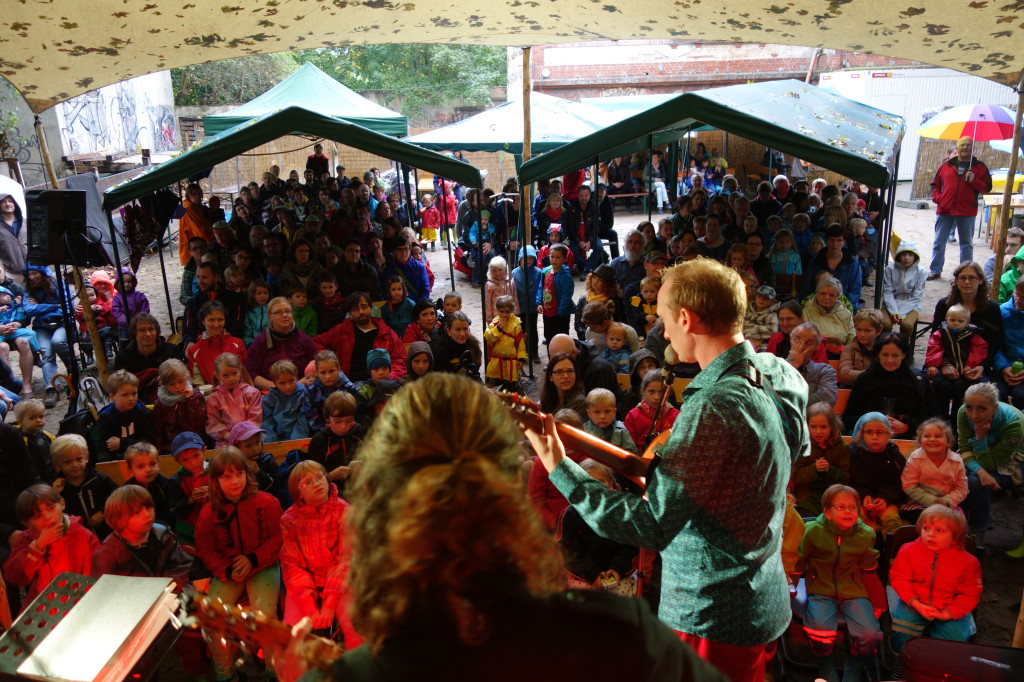 Continental Drift Tour 2014
Here we go again.
In August, the new tour starts with Dave Alley (NZ) and Jon Sanders (GB). The concerts are sometimes a duo, Alley & Geiling, some with band and from September 7th as the trio Sanders Alley Geiling. The CD "Continental Drift" is published as special edition with bonus track for this concert series. The dates, as always, can be found in my Tourplan.                    A band that shouldn`t be missed in any case!
For all who shouldn`t know SandersAlleyGeiling there is a little something for listening and viewing :
Sample : ("Dingle Day" , Dave Alley, arranged by SandersAlleyGeiling)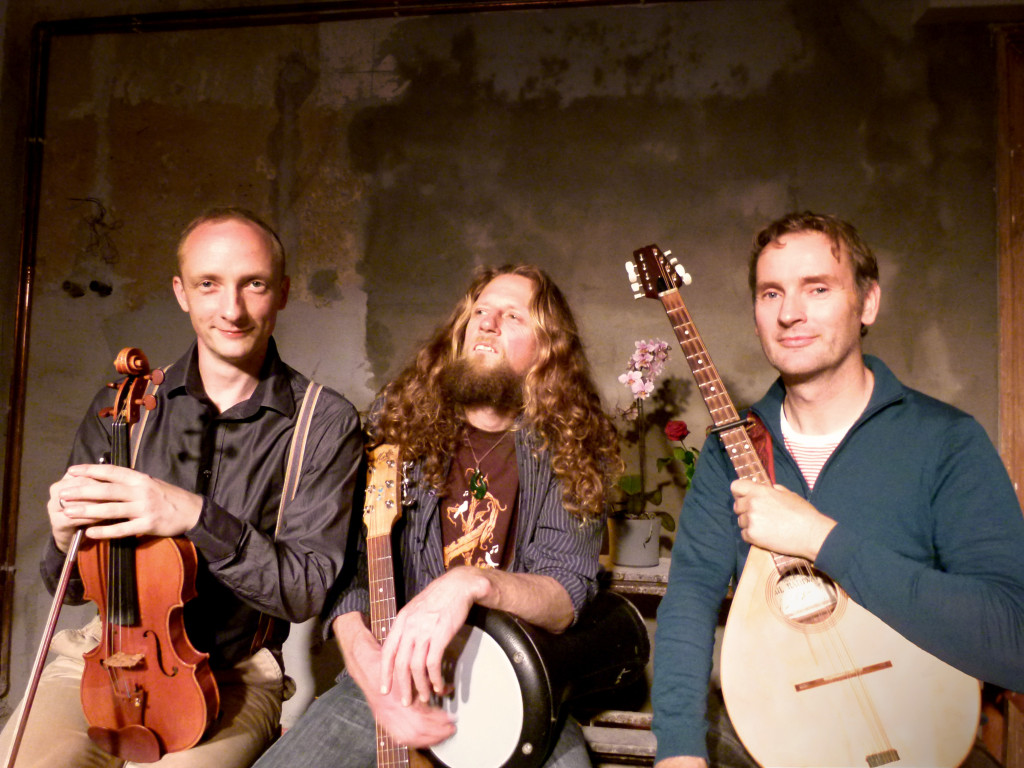 Dave Alley (NZ) – Vocal, Guitar, Slide-Guitar, Darbuka
Jon Sanders (NZ/GB) – Bouzouki, Ukuele, Gitarre, Vocal
Toni Geiling (DE) – Violin, Singing Saw, Guitar, Vocal
The three musicians meet, in spite of their residences being far apart, each year to play about 30 concerts in New Zealand or Europe. With their Continental Drift Tour 2014, they will present their eponymous album. "SandersAlleyGeiling", that's three sensational musicians that show the fantastic and amazing ways musicians can embark today.
SandersAlleyGeiling live on construction site
[tube]http://www.youtube.com/watch?v=vvg_125Mb70[/tube]
SandersAlleyGeiling live im Objekt 5
[tube]https://www.youtube.com/watch?v=kLcxLMY3-6w[/tube]
New After-Work Program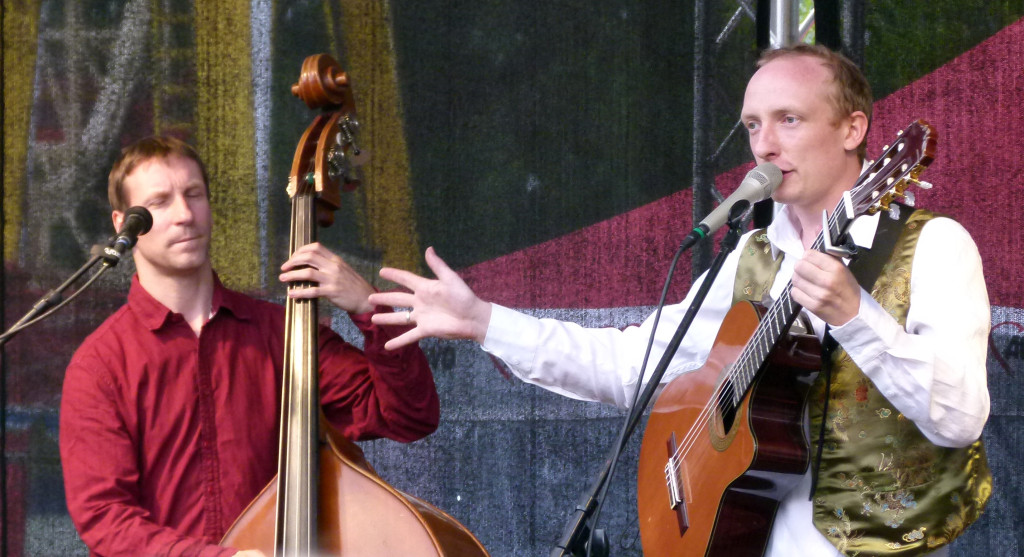 The singer-songwriter Toni Geiling and bassist Kaspar Domke present new songs about hair loss, nudibranchs and love. Will the balance between large and honest feeling and brutal comedy succeed? Probably not, if it all goes wrong, the audience is sawn or has to sing alone. For all fans of the song writer is new and tried and trusted to discover. Children are admitted to the concert, but must process the experienced art song in long conversations. Note: No, we love slugs.
Mittwoch, 5.3.2014, 19.00 Uhr, Moritzburg Cafe, Halle
Moritzburg After-Work-Abend
New date for Peißnitzhausfestival
Due to the flooding of the river Saale the `Peißnitzhausfestival` must unfortunately be postponed. Already purchased tickets remain valid or can be exchanged. The festival is now from 16th to 18th of August. My concerts will be on Saturday, August 17th. Hopefully a warm summer night for love songs at 20.00 o`clock and a beautiful children's songs afternoon for Toni Geiling & the Orchestra of Clouds at 16:30 o`clock.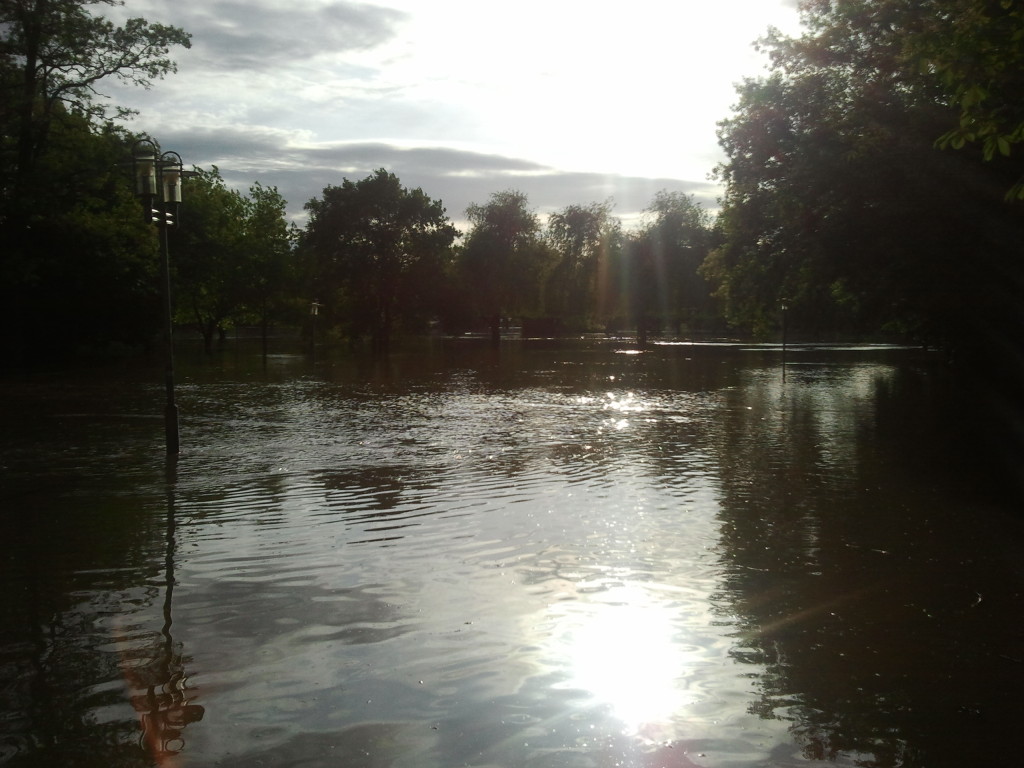 Die Peißnitz am 6.6.13 – Irgendwo da hinten wollten wir auftreten.
Schaurig Schönes zu Halloween
Toni Geiling war zu Gast bei Kakadu auf Deutschlandradio Kultur. Dort erklärt er im live und im Detail, wie auf einer Singenden Säge zu spielen ist. Wenn ihr den Beitrag verpasst habt, dann gibt es ihn auf der Kakadu-Seite zum Nachhören hier.
Ohren dran aus grüner Knete
Toni Geiling bei Sauerländer Audio "Ohren dran aus grüner Knete". Kinderlieder Compilation. (Sauerländer Audio 2012)
Die schönsten Lieder der beiden Kinderlieder CDs Toni Geilings sind jetzt auf "Ohren dran aus grüner Knete" bei Sauerländer Audio erschienen. Eigens für diese Zusammenstellung kommen das Berglied und Theobald der Drache in einer Neuaufnahme daher. Diese CD ist bundesweit im Fachhandel erhältlich.
SandersAlleyGeiling – Continental Drift Tour 2012
In Neuseeland haben sie das Publikum bereits mit ihren unverwechselbaren Klängen verzaubert. Nun kommen Jon Sanders (England/Irland), Dave Alley (Neuseeland) und Toni Geiling (Halle/Saale) mit ihrer Show zum dritten Mal auch nach Deutschland. Eigene Songs, eingängige Melodien und eine ausgelassene Spielfreude nehmen das Publikum mit auf eine großartige musikalische Reise, u.a. zu irischen Tänzen, transsilvanischen Tangos und temperamentvollen Serenaden.
"Sanders Alley Geiling", das sind drei aufsehenerregende Musiker, die zeigen, welche fantastischen und verblüffenden Wege Musiker von heute beschreiten können. Alle drei sind weit durch die Welt gekommen und haben auf diesen Reisen vielfältige Einflüsse und Musikstile kennengelernt und aufgegriffen. Im Trio vereinigen sich diese wunderbaren Eindrücke zu einer verlockenden Lustfahrt in den Kosmos der Musik.
Jons rhythmische und melodiöse Meisterschaft auf der Bouzouki, Daves höchst ausdrucksvolles Gitarren- und Slide-Gitarrenspiel ziehen das Publikum in ihren Bann. Aufbrausende Perkussion und stimmungsvoller Gesang umschmeicheln, während Toni auf seine ganz eigene Art die Violine mit irischen, klassischen und osteuropäischen Traditionen zum Klingen bringt. Die 2011-Tour feiert die Veröffentlichung des neuen Albums "Continental Drift".
Hörprobe:
[mp3j track="https://www.tonigeiling.de/wp-content/uploads/2011/09/01Dingle-Day.mp3″]
Wir freuen uns auf Euren Besuch auf einem unserer Konzerte. Es folgen noch ein paar Fotos unserer Neuseeland Tournee 2011.
Ach ja, SandersAlleyGeiling gibts auch direkt bei Facebook
[singlepic id=99 w=320 h=240 float=left]
[singlepic id=64 w=320 h=240 float=left]
[singlepic id=80 w=320 h=240 float=left]
[singlepic id=82 w=320 h=240 float=left]
[singlepic id=84 w=320 h=240 float=left]
Geburtstagskonzert in der Kulturarena in Jena
"Zum Geburtstag wünsch ich mir: Zeppelin und Nilpferdtier…" Etwa 800 kleine und große Gäste kamen bei strahlendem Sonnenschein am 14.8.11 – einem Sonntag – zu unserem Konzert in der Kinderarena in Jena. Nicht nur war es mein Geburtstagskonzert, es gab auch noch zwei Kindergeburtstagsfeten, die auf unserem Konzert gefeiert wurden. Mit mir auf der Bühne standen Anne Diedrichsen (Schlagzeug), Andreas Uhlmann (Posaune), Isabelle Klemt (Violoncello) und Kaspar Domke (Kontrabass). Es hat uns allen großen Spaß gemacht und erstmals habe ich auch mein "Geburtstagslied" live gesungen. Passend zum Anlass.
Es war so schön
Es war ein großer Moment. Erstmals konnte das Publikum im gut gefüllten Objekt 5 in Halle Toni Geilings neues Live-Programm erleben. Mit dabei waren:
Anne Diedrichsen (Schlagzeug), Kaspar Domke (Kontrabass), Alan Doherty (Flöte), Andreas Uhlmann, (Posaune) Christiane Noll (Violine), Manuela Hogson (Violine), Christine Fuchs (Viola), Isabelle Klemt (Violoncello) und natürlich Toni Geiling (Gesang, Gitarre, Klavier, Violine)
Das Konzert begann mit einem Soloteil, Toni gewissermaßen als seine eigene Vorband. Dann wurde es Ernst. Am Anfang stand die Partitur für Streichorchester, hier in einer Sextett-Besetzung. Danach kamen alle Lieder der neuen CD zur Auführung, bis am Ende ein glückliches Publikum und ein noch glücklicherer Liedermacher und Band mit "Du bist ja auch noch hier" als Zugabe in die kühle Hallesche Sommernacht entlassen wurden. Das Versprechen an dieser Stelle an das Publikum und die Band: Dieses Konzert werden wir noch oft spielen!
Übrigens "Du bis ja auch noch hier" als kompletten Promosong der neuen CD könnt Ihr hier anhören.
CD-Release Konzert "Das Spiel"
Toni Geiling ist in vielen Genres zu Hause und erfolgreich. Nun stößt er mit Das Spiel eine neue Tür auf. Mit großer Band präsentiert er erstmals live seine neuen Lieder und eine Komposition für Streichorchester.
Das mal zarte, mal frivole und zuweilen auch unendlich traurige Spiel zwischen Frau und Mann beschreibt er volksliedhaft oder recht romantisch im ureigentlichen Sinne. Manchmal entpuppt sich der Songwriter als eine Art moderner Minnesänger, der um die zur Angebeteten existierende Kluft weiß und diese dennoch leichtfüßig zu überschreiten vermag. Immer aber treffen die Lieder den Kern eines der wohlbekannten Gefühle aus dem großen Spektrum der Liebe und berühren zutiefst.
Die CD Das Spiel entstand mit freundlicher Unterstützung der Kunststiftung Sachen-Anhalt.
Hier ein Promotrack:
[mp3j track="https://www.tonigeiling.de/wp-content/uploads/2011/07/Du-bist-ja-auch-noch-hier-promo.mp3″]
Weitere Hörproben findet Ihr hier.